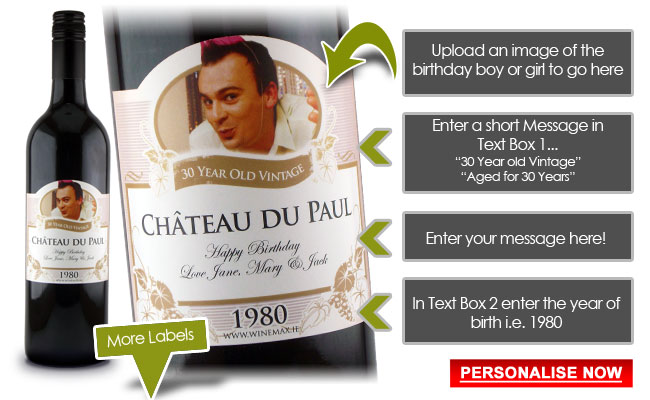 Birthday Gifts Wine - Birthday Ideas
A unique and innovative Birthday Gift for your friends and family. Personalize a bottle of quality wine with a unique photo on their birthday and your birthday message on the bottle of wine or champagne.
Thoughtful Birthday Gifts
Thoughtful Birthday gift as the birthday gift is personalized with a photo and your message. All our products are hand made by our graphic designer and can be changed if not happy with design. We have had hundreds of happy customers for our personalized birthday wine gifts.
Click on a Birthday wine label below
Personalize with your unique message and or Picture
more info....
<h3>Brilliant Gift Ideas - Ideas Brilliant Gifts</h3> <p>Looking for a brilliant gift Idea then look no further as Wine Gifts Personalized has the answer. Our brilliant birthday gifts include a bottle of personalized wine that you can add a picture of the birthday boy or birthday girl to. Take the cool or funny picture off Facebook or MySpace and upload it using our personalizing form. Then just type in the brilliant birthday message. We will then produce a brilliant and cool birthday gift present that you can show off to your friend or family and wow them with your innovative and brilliant birthday wine gift.</p> <h3>Inexpensive Birthday Gifts - Birthday Gifts Inexpensive</h3> <p>Our inexpensive birthday gifts provide a great value for money gift. We only use quality wine to ensure that when and if you decide to enjoy the present gift, you will not only enjoy the label but also the content too. But as we offer inexpensive option we also don't believe in cutting the quality. Your birthday wine gift has to impress that is why we know you will be looking at something that is inexpensive but also great value and that is why this birthday wine gift is the perfect place to get your inexpensive birthday present.</p> <h3>Friendship Birthday Gifts - Gifts Birthday Friendship</h3> <p>Friends can be very hard to buy for as all your friends will have different tastes and different likes and dislikes. Our friendship gifts will be sure to impress as you can upload any picture of your friendship that you like, maybe a photo of the two of you at last years birthday or if it is a new friendship maybe a photo from Facebook of them at work. Personalized Birthday Wine makes a great gift as gift signifies your friendship and will be sure to strengthen your friendship in the future.</p> <h3>Birthday Presents for Dad from Daughter - Daughter to Dad</h3> <p>For your Dad's birthday your dad is sure to want something other than socks. If your dad is a wine lover which we are sure he is, and you are his daughter then you need to buy your dad a personalized bottle of wine to give him something truly unique and innovative from his special daughter on his birthday. Maybe upload a picture of Dad and daughter or just a funny photo of your dad. It is sure to make your dad laugh on his birthday.</p> <!-- gift ideas wacky gift ideas inexpensive gift ideas gift ideas for nephew clever gift ideas clever gift ideas neat gift ideas quirky gift ideas brilliant gift ideas christmas gift for seniors party ideas christmas presents for ladies good birthday presents for dad birthday presents for dad from daughter ideas for special birthdays ideas for birthday surprising birthday gifts innovative birthday gifts inexpensive birthday gifts thoughtful birthday gifts neat birthday gifts cute birthday gifts uncommon birthday gifts awesome birthday gifts birthday gifts for grandma 31st birthday gifts friendship birthday gifts gifts for guys gifts for men gifts for special birthdays cool birthday presents -->
New Products For February - Birthday